There are a lot of types of guns in free fire, a Sniper Rifle, Assault Rifle, Shotgun, Handgun, to SMG. each has its own specialty and give an advantage at its good range some are good at short and some at long range.
1.
MP40:
MP40 is one of the best SMG guns in free fire it is the deadliest SMG In Free Fire. It gives its best at short range it is the most used SMG in the free fire. It is good for short-range because of its rate of fire and its damage per second. As the most used SMG  in FF, there's a reason behind it. MP40 is always recommended either for the new or old players for how good the stats are in the free fire. With its high rate of fire and easy-to-control recoil. By adding some attachments mp40 will become more deadly. level 3 Foregrip and Magazine with these attachments MP40 will have almost no recoil and a load of bullets inside.
    2.
M1887:
M1887 is a shotgun and is one of the deadliest shotguns. It gives its best at short range and is the most used shotgun in the battleground. It is good for short-range because of its less range and its damage. Of all shotguns in Free Fire, the M1887 has the most extended range of 20 meters which is almost at par with the SMG MP40.  when compared to the M1014 the M1887 has more accurate and does more damage in all ranges. The one area where this gun suffers a lot is its mag capacity. there is no magazine in this gun there are 2 shots in this gun. if 2 shots do not connect with the enemy we will lose precious time in reloading and can be killed easily.
    3.

AK47:
Ak is one of the best AR guns in free-fire Assault Rifles with AR Ammo. The weapon has high damage of 38 and a medium range and a medium rate of fire. The weapon has also low accuracy which makes it a skill to control. It is the most used AR gun due to its damage and rate of fire it is also used in long-range fights. Players can choose AK47 skins to boost the gun's damage and reload speed the best and most used skin of the AK47 is a dragon Ak as it boosts the damage of free-fire have double damage. and boosts the rate of fire have a single rate of fire and have single less magazine that dost affect the fight more
Damage: ++
Rate of Fire: +
Magazine: –
4.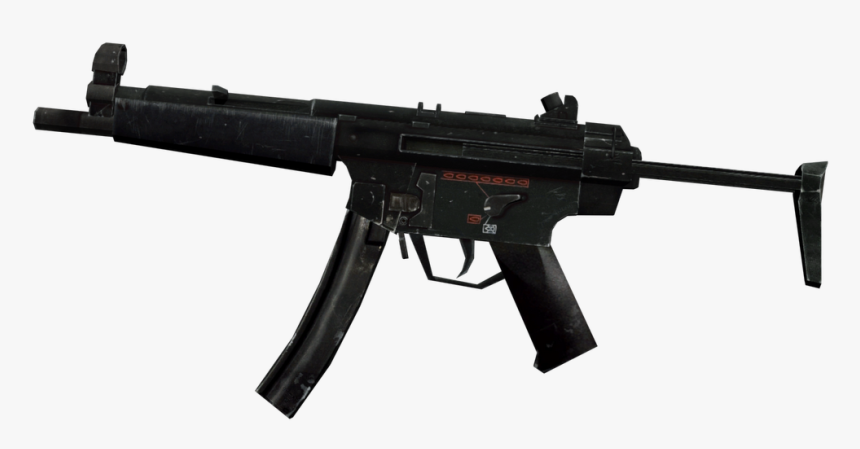 MP5:
MP5 is also an SMG gun it is the most used SMG gun after MP40. The MP5 is a sub-machine gun. The MP5 has a steady rate of fire and moderate accuracy in long-range engagements but deals low damage per bullet in comparison to other SMGs. It performs well in close-quarters, and begin able to down a player quickly, given that they are unarmed or not attacking back. Due to its steady rate of fire this gun can perform well in medium-range and close-range gunfights. A scope is a useful attachment on the MP5. If the player uses it properly, it can be a really deadly weapon at any range.
5.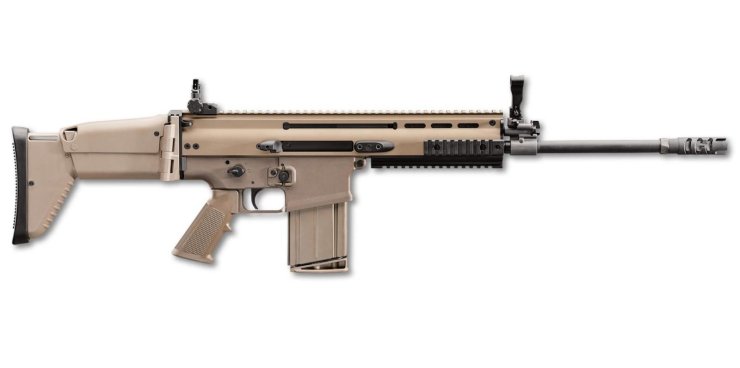 SCAR:
scar with a high rate of fire is one of the most balanced assault rifles in Free Fire. Although the gun gives medium damage, it has very low recoil and is beginner-friendly. Its recoil trajectory suits most of the players. SCAR is an Assault Rifle with AR Ammo. SCAR has a damage of 53 and it has a medium range. The Weapon has also a medium accuracy and medium rate of fire which makes it a balanced weapon. SCAR is usually the most preferred weapon in a battle royale as it has a long-range and a fixed scope.